WooCommerce vs Shopify popularity has received enormous response among the users now. That's because of how both the platform is easy to use and how they are best in their own eCommerce platform.
Both the platforms are known for their own strength and they can be the best platform for the users who wish to build an eCommerce store.
And the best part is users are on their own from setting up everything without the help of any professional designers or developers.
Let's start with how each one of them is going to benefit you catering the needs better, Shopify vs WooCommerce (for building an amazing looking online shop).
Let's understand starting from features, pricing, better looking, flexibility and usability.
We know you have lots of questions regarding the working for both WooCommerce vs Shopify. In this article, we will dig deep to fetch every sort of things and let our users know exactly which eCommerce platform is based on your individual needs.
PHASE – I (Shopify vs WooCommerce – Design)
For most having a clean & sleek design of eCommerce store is extremely important. Most customers are likely to go off if the site doesn't look or function well as it should.
 How does Shopify go by the design?
One of the prime reasons why Shopify has millions of users is due to the visual quality themes that come straight out of the box. Shopify has more than 54 store templates and has 10 free templates. What's more enriching is that the themes have unique variations.
It means users technically getting 100 templates with different designs. The themes are absolutely mobile responsive and equipped with 100 separate designs. When it comes to sleek and clean design for building an appealing website Shopify is one of the best.
The templates designed by in-house designers, as well as they,  have approached many professional web designers lately. However, the pricing can be a little expensive for the premium themes which goes high up to $180. In return, you are getting a great design to build your eCommerce website.
In case, you don't have enough budget there are free options available too.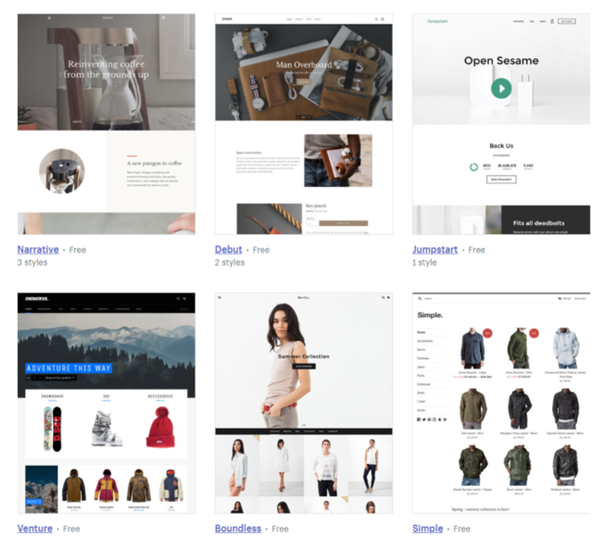 The instant appealing designs are the best part for any webmasters to buy the themes. many Shopify users have complained about the site looking similar to that of other Shopify users. Due to which customization becomes extremely important.
Besides themes, making customizations are easy from adjusting colors, styles, and use the platform-independent "Liquid Language" to make the changes you want in your website. also, Shopify has the theme editor within the platform that people can make use of for enhanced customization.
You can hide sections in the theme editor without having to remove them completely. They remain active in backend but not visible in store front end. This help users to include sections for future releases without having to remove or create duplication.
How WooCommerce does design?
As you know WooCommerce is a plugin developed by WooThemes. When it comes to building your eCommerce store WooCommerce is a great platform the only thing you would need to pour hundreds of hours in.
WooCommerce has no prerequisite design setup for users. It does what it meant for. WooCommerce will provide you all the essentials to sell your products and service online.
However, WooCommerce approach towards most of the themes on the market is provided through different WordPress eCommerce themes. It means that all WordPress themes will work with WooCommerce.
If eCommerce theme is particularly important for you then you should pick a theme that is specifically made for WooCommerce. WooCommerce starts with the default theme for the online store and is known as "Storefront" free. WooCommerce works absolutely phenomenal when it comes to designing and different elements on your storefront.

You can also find themes (child themes) to customize the look or appeal on your store. Child themes are priced at $39 with high can go up to $119. If you are a developer and have eCommerce clients you can get a bunch of themes for just $399 from the WooCommerce repository.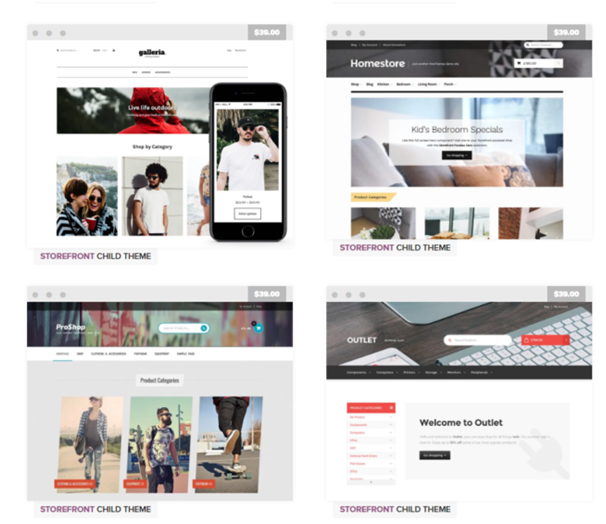 Also, you can hunt at different marketplace such as ThemeForest which has 100s of WooCommerce themes available.
What's Our take?
To be precise, WooCommerce certainly has more advantage over Shopify but when it comes to design, Shopify has a lot more to offer with themes you cannot ignore. WooCommerce is open-source and has more developers to sell themes for all sorts of websites.
PHASE -II (Shopify Vs WooCommerce- Price)
The main aim of every webmaster is to get the value deal however both the platforms have a diverse approach to pricing.
The main difference lies between Shopify Vs WooCommerce is pricing.
This brings to Shopify has straightforward and distinct pricing. Which we did not find in WooCommerce!
WooCommerce remains an open-source platform and free to everyone. But consider the additional incurring cost for making an online store. Despite the fact WordPress is free but things such as hosting, cost of theme, domain name require additional purchases.
But Shopify delivers everything right from the beginning. You can get started with a shiny new eCommerce package right away with paying small packages.
Here's a table that shows things that incur charges in each platform.
Shopify VS WooCommerce
| | Shopify | WooCommerce |
| --- | --- | --- |
| Software Price | $0 | $0 |
| Hosting | $29 Per Month | $5 to $100 per month |
| Sub Domain | Yes | No |
| Top-Level Domain | $9 Per Year | Free to $100 per year via 3rd party |
| SSL Certificate | Free | $9 per year via 3rd party |
In the above table, it is clear that Shopify eCommerce store is running on $29 per month.
WooCommerce store starts with $29 per month (include a $20 hosting, domain, SSL).
Furthermore, WooCommerce is free but running a viable online e-commerce store is the same as Shopify. WooCommerce has a better cheap option to run and operate store but ensure you do not end up going over the budget as every extension comes with a price tag.
Shopify, on the other hand, a much easy to go pricing structure. As because it has flexibility over plans that differ with features upfront. Such as Lite, Basic Shopify, Shopify, and Advanced Shopify.
PHASE – III (Shopify Vs WooCommerce- Features)
When it comes to pricing both the platform independently has different pricing altogether. But when it comes to giving your eCommerce website design or look at both the platforms (Shopify vs WooCommerce) provides users with essential to build an amazing online eCommerce store.
How Shopify help you sell?
You may need to install apps in order to work in the Shopify platform. Shopify offers free as well as paid options. Shopify offers you with great start such as:
Unlimited products
Unlimited file storage
Automatic fraud analysis
Embedded Oberlo integration
Manual order creation
Discount codes
Blog module
Free SSL certificate
Mobile commerce optimization
Editable HTML and CSS
Credit card payments
Multiple languages
Adjustable shipping rates and taxes
Customer profiles
Dropshipping capabilities
SEO-ready site structure
Individual product reviews
Facebook selling module
Social media integration (and a spicy new integration with Instagram)
Physical and digital products in the store
Unlimited traffic to your store
Daily backups
Site stats and product reports
Advanced reports (on Shopify and Shopify Advanced plans)
Fully featured mobile app
Product importing via CSV files
Different product variations
Print orders
Gift cards (on Shopify and Shopify Advanced plans)
Unlike WooCommerce some option here is such as CSV uploads, Shipping options and bookings will leverage extra charge up to $500-600 with WooCommerce.
How WooCommerce helps you sell?
WooCommerce is an open-source platform and allows 3rd party developers to create extensions and plugins. Not only that WooCommerce extends itself into offering enticing additions such as sell on Facebook, email marketing, etc.
Here's what you get with WooCommerce inside.
Sell useful products such as software and app through affiliate marketing
Receive payment through PayPal
Adjust hosts of functions such as shipping rate and taxes
No products and categories provide you countless options.
Mobile friendly structure
Ability to control the data on own
WordPress theme support
100s of plugins available
Free Facebook ad and store extension
Shopify Vs WooCommerce In-Detail features compared
| Shopify | WooCommerce |
| --- | --- |
| Subscription-based tool + Straight out of the box package | Open Source & free to use. Require hosting and WordPress installation |
| Can sell anything including digital, physical products & services | Can sell anything including digital, physical products & services |
| Has the option for sell at online + offline | Has an online option as an eCommerce store |
| 24x7 email, chat, and phone support | Ticket support, forum or knowledgeable blogs online |
| Not much of customization available for Shopify users. | Open source and support easy customization |
| Shopify has all the controls of your online store | You have complete control over the store |
| Hosting is provided by Shopify | No hosting is provided by WooCommerce |
| Subdomain included for e.g. YOURSTORE.shopify.com | No domain included |
| Free SSL | Free SSL is provided |
| Unlimited storage | Storage depends upon your hosting server space |
| Sell unlimited no of products | Sell unlimited no of products |
| Accept money via PayPal, or through multiple payment gateways including credit cards, cash on delivery and over 70 options | Accept payment via PayPal, Stripe, checks, money transfer via bank, cash on delivery |
| Provide detailed sales stats | Provide detailed sales stats |
| Native support for multiple languages | 3rd party plugins are used to support multiple languages. |
As you see both the platforms independently has more features than the other. Choosing one over depends upon the user needs and personal preferences.
But Shopify seems to be more prominent with a more focused and user-driven solution for users. Everything that Shopify do is to make your online store look more functional and feature-rich.
However, with WooCommerce it doesn't seem like it misses out any features. In order to work, it should use an add-on for WordPress. In the end, there is no clear winner in terms of feature department both had that standard eCommerce setup every user looks for.
PHASE III Ease of use (Shopify vs WooCommerce)
The ease of use determines how easy it is to set up an online eCommerce store with Shopify Vs WooCommerce.
How easy it is to use Shopify?
The USP of Shopify is the subscription-based online tool. It is easy to create a Shopify account and get started straight opening up the store through a basic setup wizard.
Shopify asks about the purpose/nature of the store and offers you adequate help in regard to the design/structure of the website.
Once you get through the basic wizard, you will reach the dashboard to create new eCommerce and new products.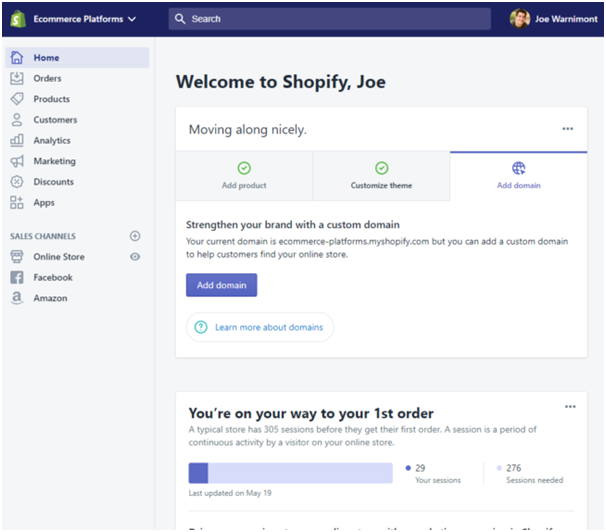 The process is self-explanatory whereas you do not need designs or site-building skills in order to build an online store. When it comes to adding products to your store the single window panel help you with all parameters so that you do not need to go different areas of the dashboard to set things up such as name, price, images, stock levels, etc.

The above screenshot shows the inclusion of a "new product". Overall Shopify is a solid platform to start building your online eCommerce store. You can start early and sign up for the process and finished it in a few minutes.
How easy to use WooCommerce?
WooCommerce somehow feels pretty similar to Shopify. Although working with WooCommerce on a daily basis is effortlessly easy like Shopify but it isn't.
WooCommerce is a WordPress plugin hence, it not a subscription-based solution like Shopify but there are few things every user should be aware of WooCommerce.
Therefore, you need the following things in order to work at WooCommerce
Domain name
Hosting account
WordPress installation
Installation of a WordPress theme
WooCommerce does not come with the individual theme design. Users need to install a WordPress theme in order to build an online store. There are many themes on the market but it's still hard to find one and get it to install on the site.
Now the WooCommerce platform is easy to use after you have installed the WooCommerce plugin and activated. After the plugin requires proper configuration in order to set up the store. You will find a setup wizard similar to Shopify.

The above screenshot depicts the wizard menu of the WooCommerce plugin. And by the help of the plugin, it lets you choose the parameters of the store. Such as currency, shipping and taxes, and payment gateways.
Which one is easier (Shopify Vs WooCommerce)?
Due to many constraints involved while setting up an online eCommerce store. We prefer Shopify over WooCommerce. Users can start right away by just clicking the signup button to have the full store set up within minutes a better deal.
However, in most case, working on daily usage Shopify Vs WooCommerce offers good ease of use.
PHASE – IV (WooCommerce vs Shopify market share)
As WordPress has emerged from blogging, you may not know but WordPress has dominant over other CMS precisely eCommerce. With over 1 million sites on the internet, WooCommerce represents most demanded platform with an increase in market share up to 22%.
In regard to WooCommerce market share compare to Shopify it is quite competitive for both platforms and one or another lead in few categories, however, during recent studies it is found that Shopify has significant growth as compared to WooCommerce. The below table will represent the correct market share for both the platforms.
| | Shopify | WooCommerce |
| --- | --- | --- |
| Internet | 18% | 7% |
| Top Million sites | 18% | 22% |
| Top 100k sites | 21% | 13% |
| Top 10k sites | 22% | 6% |
The table shows everyone's favorite is Shopify and has the most market share with 373 sites are an average using Shopify whereas only 106 sites are using WooCommerce.
PHASE – V (WooCommerce vs Shopify popularity)
Unlike other eCommerce platforms, WooCommerce and Shopify both retain a huge number of users. Hence keeping the comparison aside for a moment, we confirm that the WooCommerce and Shopify both are the best eCommerce platform.
But comparative analysis suggests that among the two best platforms Shopify is more popular over WooCommerce is because users are more likely to Shopify as because it's easy to start and deploy your online store within few minutes.
Besides this Shopify has extensive documentation stored for users to help themselves with resources and tutorials. You can imagine how it is to type a query in the search documentation and get the appropriate results without having to look anywhere else.
In a nutshell, Shopify is more popular than WooCommerce. That's because it has dedicated support which looks absolutely promising as it is not in the case for WooCommerce.
Conclusion
If you're a beginner in web design, Shopify is the best fit for you. If you have good knowledge about WordPress and how they work WooCommerce provides endless possibilities in designing your online eCommerce store also, WooCommerce is absolutely free for the users.