Did you got the message or error from cpanel that your Inodes if full and you have to take a necessary action on it. I have written a detailed article on What is Inode in Hosting? Here, I will let you know how to reduce or avoid the issue with over usage of Inodes in Cpanel.

Where you can see your Inodes in Cpanel?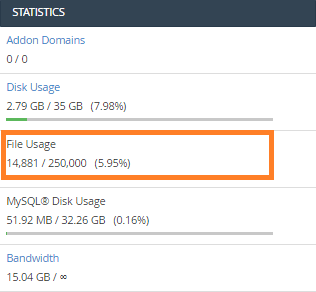 In Cpanel, where statistics are shown, you can see the File Usage, yes this is the Inode in the Cpanel. Your hosting provider provide the Inodes that how many number of files you can host on their server in your account. Usually it starts from 50,000 to 4,00,000 depend upon the hosting provider and the hosting plan that you are opting.
So, what you will do when your Inode or File usage gets full and then what will be your action, Here now I will let you know How you can clear your Indoe and How you can decrease the usage of inode.
By now, I can guess that you got to know that your File usage or Inode is full and you need to reduce the number of files. Before working, you need to check which files or directory is taking lots of Inodes, so it will be easy for your to work on that files and you can reduce the Inodes usage.
How to check files and the usage of Inodes?
In Cpanel you will find Inodes in file section, if you can't fin then do CTRL F and type Inodes

Click on Inodes folder and you can you can see all the files and the number of Inodes
Now you can decide which files are using the high number of Inodes and you can ask your developer to work on this and this way you can check and reduce the same
Below are some steps which you can use to decrease the usage of Inodes in Cpanel
Delete unwanted Files from your hosting
Examine all the folders and files in your File Manager and analysis if the file is necessary to your website or not. If you find out that the file is not necessary then you can delete that file. You can do this via FTP or via Cpanel -> File Manager.
Yes Mail can also increase the usage of Inodes, so it is recommended to clean all your Spam and unwanted mails. Deleting the old mail will help you to decrease the usage of Inodes. Always keep a tab on unwanted or old mails
Are you using any Cached Plugin then might be cache is stored on your hosting server, which is utilizing the usage of Inodes, so always clear the cache files of your website. You can setup the cron job to clear all the cache automatically without doing manually.
Suggestion – If you are not able to clean the Inodes, you can always contact your hosting provider and they will help you on the same. Also, I have written detailed article on unlimited inodes hosting which will help you to decide which hosting provider is the best for your website.