Do you know there is a way to accept recurring payments via WordPress forms?
If you have come looking for this method. You have landed the right place. Earning through your blog is the most difficult and enthralling thing in each one of us life. While you create a form with a payment option this makes it even more convenient for you to receive payment on a repeated basis.
With the help of this article, I would like to summon a method through which you can easily collect recurring payments using the WPForms on your WordPress site.
Why accept recurring payments through your WordPress forms?
Is there any need for receiving recurring payments through WordPress forms? You might know while earning online especially from a blog requires a sustainable relationship with the customers or users for your blog success.
And it is pretty evident that without the use of recurring payment on your WordPress blog. Your blog would never see the light of the day. As because
It costs double to obtain a new customer than retaining an existing customer. Offering a privilege to the existing customers for regular pay for basic products and services you use is the best way to allure customers. By mentioning the few products you use to save money while generating more money captions fit right on the CTA.
Offering proper guidance with the help of the step-by-step process and guides helps others and you get paid on a recurring basis. This is a long-lasting relationship you build throughout your blogging journey.
You can increase you are earning from the blog while you enable the option to accept recurring payments through selling monthly products, subscription, and memberships.
Options to connect and easily reimbursed different digital products to users in exchange of recurring payment which help you to scale your business growth.
Receiving recurring based payments using WordPress WPForms plugin is convenient for you and users and eats less time for setup.
You can easily collect recurring based payments on your WordPress blog if you use any of these (Online donation form, a user registration form, simple order form, sell physical or digital goods.
Now, let us help you set up your first recurring payments functionality on your WordPress blog using the WPForms plugin and stripe in a Step-by-Step method.
Step 1
In order to set up a recurring based payment option on your WordPress blog. The first and foremost would be creating a new WordPress form.
Secondly, you need to install and activate the WPForms plugins in WordPress.
WPForms will be used to set up recurring payments on your forms using Stripe.
In order to install Stripe, you Go to > WPForms> Add-ons and find the Stripe add on there.


After you have installed the Stripe Add-on. Go to WPForms to add or create a new form.
For instance, if you like to create an online donation form for flood relief than create a form that offers users the option to make a one-time donation or on a recurring basis. Below screenshot will help you understand how the online donation form looks like.

Step 2
There is an option to include additional fields to your form. It is usually done using the drag-and-drop option from the left side of the panel to the right side of the panel.
You can modify and alter any number of times and also use the drag and drop option to make adequate changes to the donation form.
Now, in order to collect a payment, recurring payments use the Strip add-on. While using Strip make sure you to add at least two consecutive form fields for the form to work correctly.
Items fields such as single item, multiple items or even drop down items
A credit card field.
Also, consider adding a separate "Total" form field through which users will get to know how much they are going to pay for the service when they submit the form.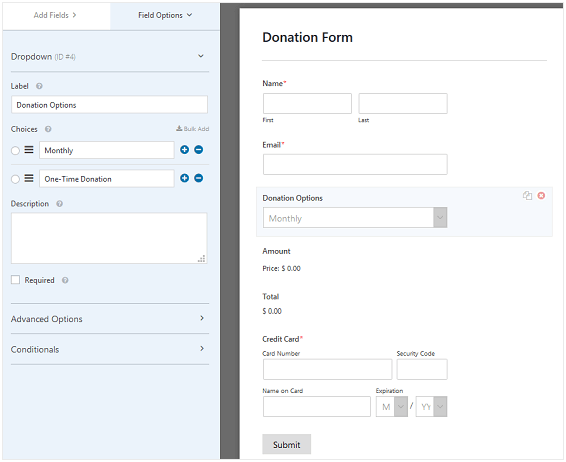 Step 3
Now you would require to set up the payment settings first. In order to do that Go to Payment > Stripe to manage the payment set to your form.
This help users to pay you through the Stripe payment gateway.
Upon selection, the checkbox marked as Enable Stripe Payment and write a short description about the payment type and allow the option as Email for the Stripe receipt payment.

Now you are all set to insist people give a donation using the online donation form. The next would be to adding the form on your WordPress site.
You can still manage to customize the recurring payment option if required.
Or if you want to setup recurring donation here are few steps.
Visit the Stripe setting panel and enable the checkbox marked as Enable recurring subscriptions payments.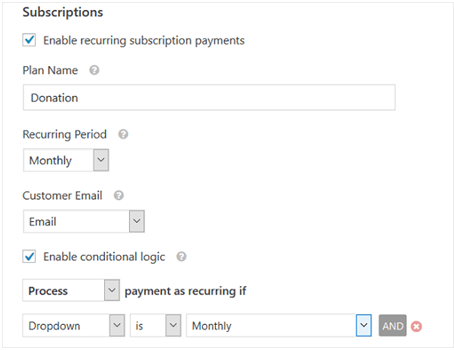 You also need to consider a few changes they are as follows:-
Plan Name: It is a title of the subscription that showcases during a Stripe transaction
Recurring Period: It will allow the settings to know how frequent the recurring payment transaction will be carried on.
Customer Email: It will help WPForms to send notifications to customers after they submit their forms. Allowing this option is a good choice to contact people using the email functionality.
Finally, you need to setup the conditional logic rules as you are insisting people to make recurring payments or a one-time payment.
In order to enable conditional logic. Ensure you configure proper settings such as process payment for the recurring such as monthly, bi-monthly, etc.


In this way, you configure recurring payments donations. This helps users to understand the payment mechanism hence, it will process their payment automatically after the specified payment time you mentioned on the form.
Now, Save all your settings.
Before jumping off the board ensure that you have configured everything correctly and make sure to test everything out before finalizing.
After you have finished off everything. You are now ready to accept recurring payments that will help you substantially in your business needs.
Try WPForms which is one of the most popular plugin trusted by over 2000000+ users. Use the plugin to create, customize different element with built-in drag and drop form builder!