Most of the time seems it is not practical to fill in a form and send it off, well a signature may be required.
Suppose you are held in a courtroom with a client of yours who claims to have never agreed to your contract.
Of course, you pull up the contract and after an ephemeral review, the judgment for the E-signature is told not legally valid.
Would you be able to support your case then, well that's not much you can do?
Electronics signatures these days have strict rules due to which it becomes essential to pick the correct application for creating a signature form that you may use in your business.
But how do you think of getting the signature into an online form?
Well, that's your query?
Now, the straight answer to this question is Yes, you could generate a PDF, download it and send it through by Fax. But that's old school method? Right?
What if you could use a WPForms in combination with a signature add-on to collect all the real-time signatures online?

In this article, we'll elaborate on how to create a signature form in 3 simple steps.
But first, let me tell you why create a signed service agreement in WordPress?
There are lots of benefits associated with the creation of a signed service agreement in WordPress.
Service agreements are taken off to both ends.
It makes easy for the client to sign a contract in real time–WPForms is a great way to start and allow the client to sign in the agreement just by the use of a click of a mouse button.
Online signature forms do not have such nitty-gritty – Likewise, less hassle with sending the email back and forth for the document to get signed.
Allows you to close the deal faster – Since, online forms do not require sending emails you can close more deals in a short time and help you signed service agreement forms in growing the business faster.
What should you do before creating your service agreement form?
Before jumping off straight to create a service agreement form many online business proprietors do the mistake of not hiring a lawyer.
Although, you can stay away from when you create a service agreement form it is a big leap for your online business.
A lawyer helps you with the legal procedure of writing an agreement correctly so that you don't end up messing the legal issues afterward.
A conventional method of writing a service agreement form usually has the following things in it.
Ensure that you specify the terms and condition related to the agreement
Ask for client details such as the address of correspondence and phone number
Get the client signature.
To get an idea about how a service agreement form should like similar to your business. You can do some online research and look for a sample agreement.
The sample service agreement may not look equivalent to your business but it will provide you the perspective of what your service agreement should conceive.
If you are looking for how to create a signature form in 3 simple steps. Here we'll make use of the WPForms in WordPress.
Step 1 How to create a Signature form
Let's start a signature form first the service agreement form can be added later.
Since you do not require to send the agreement contract back and forth to your client to get it signed.
It is pretty acceptable that to include a digital signature in your site you would need the help of WPForm plugin. Thereafter, you also need an add-on known as a digital signature in WordPress to get it to work fully.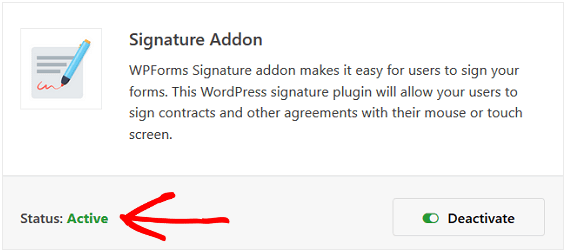 Almost done, after you have installed the two aforesaid plugins above.
Carefully follow the below steps required to create the wordpress contract agreement.
A blank form is created in order to prepare the wordpress contract agreement shown in below screenshot.

Assuming that you performed the above steps correctly, under the form editor you will find the signature for the field.
Add them on the field using drag and drop technique and relocate the field where you want them.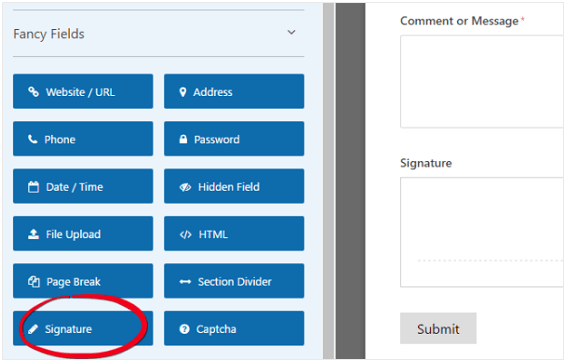 In case changes required in the signature form field, simply click and edit it.
Ensure that you set the field as required so that users will require adding a signature before they submit your form.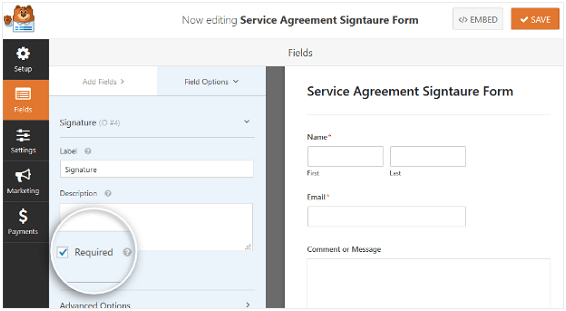 Once completed, save the configuration from the top right side corner of the screen.
Step 2 Configuring your Form's settings
Setup everything correctly prior to adding the form agreement page

There is a host of setting through which you can configure the WordPress form. Some are mentioned below.
General settings
Form confirmations
Form notifications
In case if you require WPForms allows you to use the following email service provider's integrations
AWeber
Drip
Constant Contact
MailChimp
Campaign Monitor
GetResponse
Make sure you click on "Save" settings so as to make changes to your form settings.
Step 3 Create and publish your service Agreement
Now you will need to add the service agreement page to a WordPress page.
For adding up the service agreement page. Follow the below steps carefully
Go to the pages and then, Click on Add page to create a new page
Name the WordPress page as a service agreement and include the agreement text into it.
Click on the + block icon to add the service agreement form. Include the WPForms block from the search and add them up.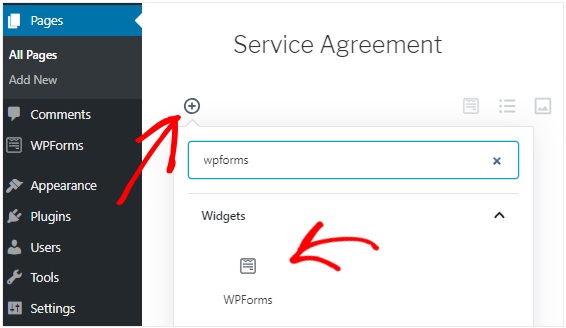 Select the correct service agreement form from the dropdown box and add it on the page

Now, click Publish button for the service agreement to appear on your website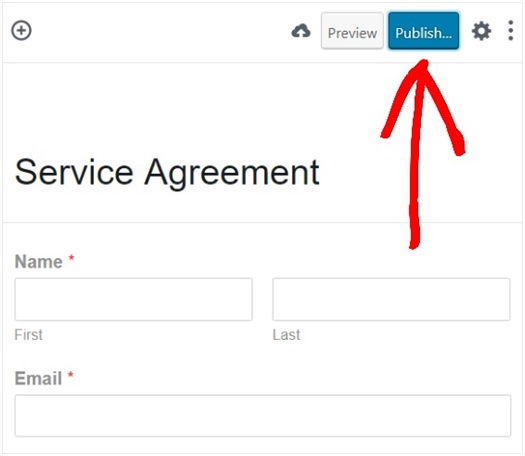 Now, you have completed the steps of creating a service agreement in WordPress using the digital signatures.
Our Pick
The user interface of the WPForms is better than its counterparts. Creating the signature form in 3 simple steps is easy and the navigation has a natural flow to the creation of the form.
The WPForms E-signature add-on corresponds to the complete safety and rigid authentication for the contract made with the clients that are compliant with UETA/ESIGN
In "How to create a signature form in 3 simple steps" WPForm is one of the most demanding plugins that carries out all the tasks in your wordpress website.
Although WPForm uses the electronic document that has very strict rules and guidelines when making legal contracts among parties such as the invoices, employee agreement, and legal clauses are written in the service agreement in the business due to which the service agreement is considered nationwide and foreign document by the signing regulations.