In this article, you will get detailed information about 3 best website session recording platforms in 2023. 
So, how does a visitor screen recording tool works?
A visitor screen recording tool uses a recorder or collects visual activities visitors perform on your website. A visitor screen recording tool can track click, scroll or type on your website. It also allows keeps a record when people explore different sections of your website. 
With the help of visitor recording tools, you get a perfect alignment using the recording to identify the place where you need to work. 
You get a perception about how to optimize the website in order to fetch more traffic and retain customers accordingly. 
Here  are the 3 best Website session recording platforms in 2023
1. Smartlook (I am personally using this platform)

Smartlook is a website session recording platform that provides online marketers, business for better conversion rate optimizations using specialized methods. A few features that help stand out from the rest of its competitors are visitor records, click maps, event tracking and creating funnels. 
Smartlook provides event logging and session recording. The tool help in getting an idea about the visitors' activity on your website. You can access all the visitor recording sessions using mobile or desktop. 
You can view the recordings of users visit your website/blog and how they interact with your website. Smartlook users are able to identify the mistakes and unveil better opportunities for the betterment of your website. 
You can see visitor's mouse movements, clicks, form fill and everything they do on your website. 

Features of the Smartlook visitors recording tool?

24×7 visitor recordings

Ability to obtain heatmaps

In context recordings

Funnel conversations

Automatic event tracking 

JS Console

Conversion data

Integration 

Filtering & segmentation

Collaboration & sharing 

Multi-device compatible

Event picker

Mobile apps

Data history
What you can do using Smartlook visitors screen recording tool?
Smartlook preserves the record of user's data of individual sessions or visitors entering your site from different locations. With the help of this tool, you will get a broader perspective and understanding of the visitors' data conveniently. 

This implies that you get better the better insights about user behavior, decisions, actions that could potentially be helpful for your understanding.
With each small information, you'll be able to gather plenty of information for identify issues or areas where improvements are needed for generating leads.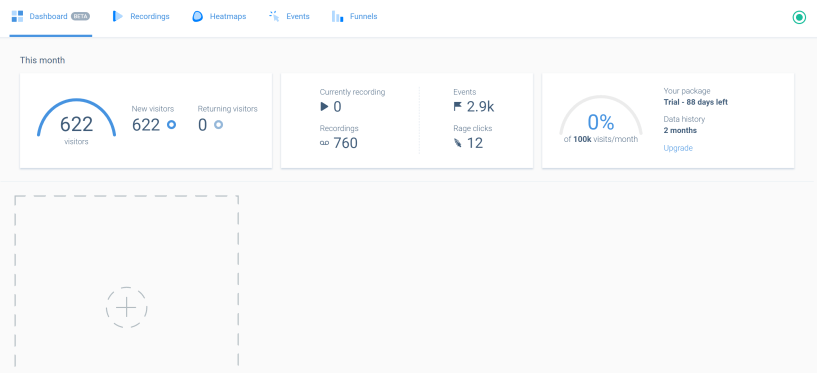 Smartlook visitors' screen recording tool is one of the best session recording platforms in 2023. It is used by individuals, webmasters, companies, organizations, eCommerce, and others.
Moreover, companies are intrigued to seek information about the user interaction on their website as well as on mobile apps that help them understand user behavior using the powerful smartlook session recording tool.
At present Smartlook is used by over 200,000 organizations of all sizes.


What is the pricing of the Smartlook visitors screen recording tool?
Currently, Smartlook offering a straight 10-days free trial.

If you are looking for a best session recording tool for free website analysis then, here's your search ends.
During the free trial, you will be able to use the Smartlook as much you want. You will get the following things for recording and heat maps.
Share your recordings and heatmaps with your team members.
Records visitors from mobile devices
Compatible with Ajax and single-page apps
Get up to 100,000 visits every month
Get insights upon visitors journey
2 filters level
Take up to 3 notes
Heatmaps available
Smartlook offers 3 plans as of now and the pricing is based on the requirements.
The Starter plan would cost $19/month.
The Power plan would cost $79/month.
The Enterprise plan is available with a suitable quotation.
Although Smartlook is a great tool but it would take some time before it can actually verify customer's issues while recording a visitor's session.
In the midst of reviewing the Smartlook session recording tool. I found a few Pros & Cons listed below.
You can also read the detailed article on Smartlook Review which will help you to know more about smartlook
PROS
The detailed insights are quite helpful
The client onboarding process is valuable
Free version available for starting small projects that actually help test the tool before you get a paid one
Easy to use and has a free plan with a limited number of recording but offers all the functionality along with the inclusion of heatmaps.
The best tool for starting out different marketing campaigns
Good UI
CONS
It doesn't store videos in archives for long also sorting videos with dates are clumsy.
Limited option on free account

Considering the demands of most online marketers the company, Hotjar established in the year 2014 has achieved tremendous growth over 3-4 years. The tool offers advanced analytics with detailed insights on visitor's interactions on your site.
Hotjar is popular with the name all in one analytics and feedback session recording tool which comprises avid functionalities to see what visitors are seeing on your website.
Features of Hotjar session recording platform
Hotjar is one of the most popular visitors' session recording tools in 2023. Let's look at some of its features
Heatmaps
Visitors recording
Conversion funnel
Form analysis
Feedback polls
Incoming feedback
Survey
Recruit testers

Heatmaps are an integral part of any insight tool but how does Hotjar different with Smartlook? Both tool looks quite familiar but Hotjar offers better insights and offers more information than Smartlook or Inspectlet.
Unlike Smartlook, Hotjar is efficient in showing mouse clicks and movements of visitors additionally you'll know about repeated clicks, hovering the mouse over the clickable elements.
Hotjar is one of its first kind to offer your visitor screen recording tool of users visiting your site. Similarly, you will obtain information about how users interact with different elements on your website across various devices. You can literally see everything using the session recording platform and gain a better understanding of the pertaining issues on your website.
Indeed this is one of the best features of the Hotjar session recording tool.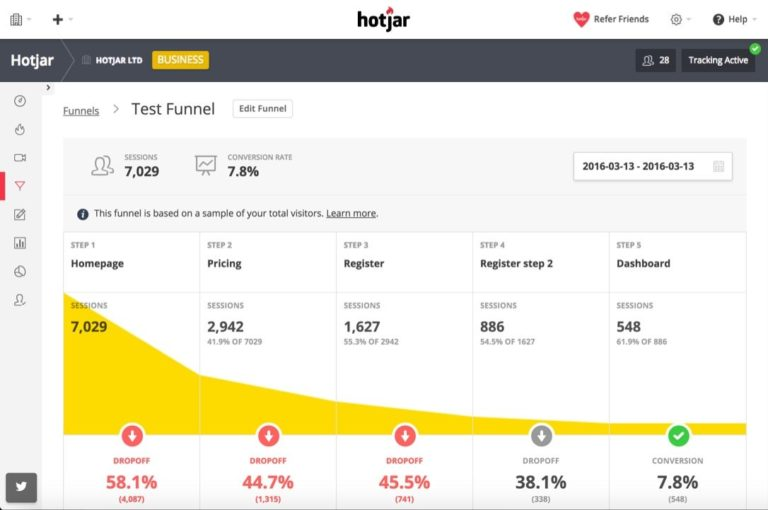 One of the best ways to learn why visitors are dropping off by using – Conversion funnels.
Conversion funnels are a great way to collect information, implement different techniques for the enlargement of the growth of the business. Hotjar provides you complete information hence, you can start the business investigations using the tool.
Hotjar has the most astounding set of features and powerful recording capabilities to see what's going on in your website? The only CONS we've found using Hotjar was the lack of proper insights that most users prefer using like to see.
Besides, Hotjar is the best website session recording platform in 2023 and we found it to be true.
Hotjar Pros & Cons
Hotjar session recording tool can help you achieve the best conversion rate which is required to maximize your online sales. It's absolutely necessary for bloggers, webmasters, startups, and other mid-sized businesses to make use of the session recording tool.
Pros
Quite easy to understand and perform different tasks
Plenty of features onboard
Easy scalability
One of the most selling session recording platform
Cons
Hotjar is incapable of providing deep insights on data, analysis
Pretty similar to Smartlook
Hotjar Pricing
Hotjar pricing is pretty good with diverse customizable options for easy upgrades and downgrades of any of the plans. Hotjar allows you to choose the best plan in accordance with the needs of your online business.
Hotjar includes 3 different plans for Personal, Business, and Agency.
However, the Personal plan is best suited for low traffic websites or blogs and it doesn't require any fee.
In a Personal plan, you get the following benefits
Almost 2,000 page views per day
Any number of users
The free version has its own limitations
Recordings, data are stored for 1 year
You do not require any fee to use the Basic plan
In the Personal Plus plan you get the following benefits with a fee of $29/month
Close to 10k page views per day
Features are of the Basic plan
A straight money-back guarantee for initial 30 days
In Business, plan you get the following benefits with a fee of (89-589$)
Hotjar allows you to pick one of these according to your business needs such as
20,0000 pageviews – $89/month
50,000 pageviews – $189/month
120,000 pageviews – $289/month
400,000 pageviews – $589/month
You will enjoy most features from the professional Plus plan also it gives you to access to advanced features.
Lastly, Hotjar also offers an Agency plan where users can directly offer their services to the clients. Also, Hotjar allows you a central panel for unlimited client websites. For the pricing, plans are generally obtained at a discounted price.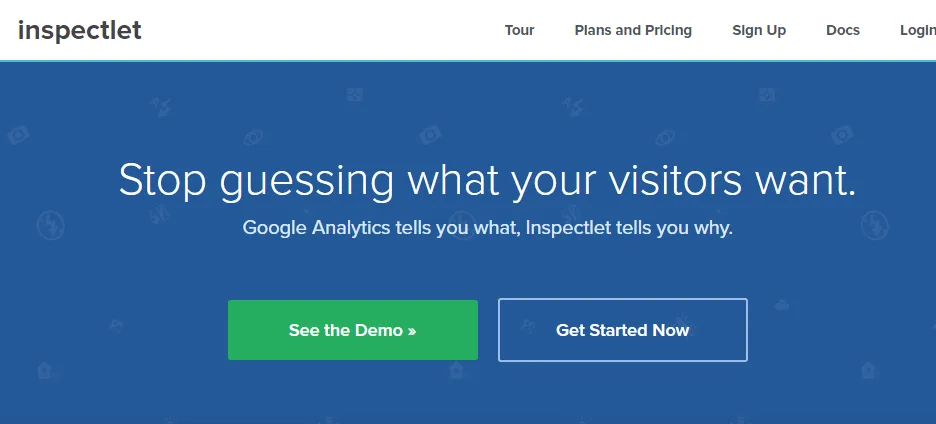 Inspectlet remains a favorite choice for many users as it offers better conversion rate optimization than the rest. The tool actually manages to obtain data of users visiting your website. It includes a heatmap, session recording, and so on.
Inspectlet has been tried and tested by many people and their reviews conclude that it's a great session recording tool with advanced features and real-time monitoring.
Inspectlet offers great insight into user data with 100% accuracy in all activities. Also, the interface is pretty easy to comprehend. It also ensures complete data tracking with detailed and useful visual reports for the business.
Inspectlet Features
If you are fond of a visitor's session recording tool, then Inspectlet is worth looking into. With each company, there are different business requirements. Definitely, inspectlet is among one of the leading platforms that essentially considered its features such as.
Deeper integration and better insights.
Better support
Best tracking heat maps
Best mobile recording and tracking
Better conversion and funnel analysis
Single page support using AJAX
Repeated video playback with session recording
We found that when you are looking for a good decision of making a purchase it's is an important factor to see what real people say about Inspectlet and not a piece of expert advice. We found lots of good reviews, comments across different social media sites and with few negative ones.
With this information in hand, we can conclude that Inspectlet is equipped with lots of features to make an informed decision and hopefully you won't regret it.
Inspectlet Pricing
The Inspectlet tool currently has 6 plans based on the visitors' count. Also, it offers a basic free version for low traffic website that would cost nothing.
Below you can find the list of Inspectlet plans and the differences of the monthly users it would have for recorded sessions.
Free – $0/month
Micro – $39/month
Startup -$79/month
Growth-$149/month
Accelerate-$299/month
Enterprise-$499/month
Inspect session recording tool includes several features such as
Session recording
A/B testing
Dynamic Eye-tracking heatmaps
Form analytics
Automatic error logging
Inspectlet offers a diverse set of features such as viewing heat maps, browsing, recording playbacks. Inspectlet session recording tool uses a javascript language to record visitors and store the data to the server so that users get complete web analytics for better interpretation.
Inspectlet users have shared their personal experiences and through the reviews, we come to know that Inspectlet is a great tool that tracks and analyzes visitors on their website. With this tool, you learn important information regarding potential customers with effective mouse movements, scrolling, keystrokes, and clicks.
Inspectlet Pros & Cons
Pros
One in all software suite
Brilliant website heatmaps
Funnel analysis with better conversions
Real-Time visitors recording on the website
Cons
Sadly, unlimited recording and playback is the only available inexpensive plan.
The free and micro plan has limited features
The visitor session recording tool allows you to advance funnel analysis to see how and when interacting took place. You can basically find out which visitors to view by and filtering for various actions. Also, it includes a heat map offer better insights than other recording tools.
What is Website Session Recording?
Session Recording is referred to as an event mainly a record browsing session of website visitors. With the help of these session recordings, you get a plethora of vital information about the traffic user activities on your website. 
A session recording tool is often used by online marketers that gives them the ability to seek user's website journeys through the website by looking at their screenplay carefully and study them for identifying the Pros & Cons of the website. 
Most online marketers use this "Session Recording" to look for visitor's input to optimize and improve the site structure for better usability. 
Not only that a session recording tool is also used to perceive the conversion rate that helps the site owner to deliver a better experience to the visitors. 
Moreover, a session recording can be used to know their buying intention and set a few goals for target users of specific demographics, age, gender. 
Session recording tools ponder the needs of different online marketers to analyze and interpret data through the site usage pattern. 
A session recording tool can be used and applied to any website for building different marketing strategies. 
For instance, A/B testing helps an owner of the website to understand the importance of certain facts such as issues that visitors on the website encounter and the recording helps in collecting and analyzing the data to know the different areas where your website should improve. 
Other examples such as shopping cart where a session recording tool benefit the owner of the website for hassle-free users checkout process. This brings a better conversion rate.
Better say a session recording tool basically used to observe the visitor's pattern in a more relaxed way. The session recording tool starts the recording as soon as any visitors enter your websites. Through the help of recording, the tool offers raw insights to seek different tests such as polls and other things. 
How Website Visitor recording will help you to understand your website
Recording sessions are vital and offer an exquisite privilege to the owner of the website to look at how users behave – this means you'll be able to analyze even the closest things of users are interacting with your website.
Basically, there are 5 benefits you can reap using the session recording tools that help you gain access to a plethora of what others are doing on your website.
Understanding and analyzing the behavior pattern of the users
Session recording platforms tells you exactly how visitors are going to browse your website. It helps find the clutter areas on your website and provides an opportunity for a larger impact.
A couple of recordings will tell you to feed you the information about where visitors are getting struck. This means you will be able to identify the cause of the conversion issue consciously.
A glance at recording to see how visitors are interacting with your website

Website session recording platforms will allow you to see how visitors are interacting with different elements on your website. For instance, where they click, how much time they spend throughout the session.
The session recordings will let you see the insights in real figures so that you can make impactful things.
Minimizing the bounce rate of your website or blog
Find different new opportunities to minimize the bounce rate and keep an eye on the visitors who have left your website without converting. Use the pattern behavior to comprehend what makes them leave your site or blog? Is the site structure was not good enough to convert? Or Do they have experienced a bug? Make sure you find plenty of insights from the session recordings so that you're able to comprehend the areas of improvement.
Find, pertaining issues, bugs, and error code on your blog or website
Session recordings or replay allows you to know where users got stuck, found an obstruction, or have experienced errors. With this technique, you'll be able to know the areas to improve your website.
Obstacles on the technical and informational areas or broken elements and even loading issues can be resolved using a session recording platform.
Reimbursed others such as team members, client to make a firm decision

Recordings are easy to watch, share, and provides an outcast of people visiting your website. Regardless of how many people visiting your site, you'll be able to make a firm decision with respect to making alterations and optimizations on the website.
If you're a PHP developer, WordPress user, or a UX designer, and even an online marketer. By using a session recording tool you will be able to comprehend and decide over major business decisions exhibiting your efficiency towards the work or people with whom you work.
Session recording tools are a great way to learn and help you see things visitors do.
For instance, the session recording platform will record mouse movements, scrolling, and register clicks. You can a series of recording even using a mobile phone.
When a visitor enters your website or a new page, the session doesn't stop here. instead, it keeps the recording ON and stops only when the visitor exit your site. This helps you view the video recording later at your convenience.
Session recording tools have the ability to register keystrokes data. For example, Hotjar (session recording tool) disable the personally identifiable information such as credit card details a user would input in credit card fields.
How does a session recording video look like?
It's okay if you have never had the opportunity to view screen recording. It's like watching a video playback sitting on a couch – The experience is phenomenal when you see real people scrolling, reading, or interacting with your blog for the first time.
In the first instance, you'll be able to comprehend and began to find out how users interact with your site and soon you will be able to find the sweet spot on your website.
Things you'll notice after you have watched several session recording videos are:
What it takes to navigate from one page to another by the visitors
How they interact with your website or fail to with navigation buttons or elements present on your website.
Weird mouse activity or infinite scrolling and repeated clicks
How long does it take to complete an action?
How visitors navigate through different pages and where they stop?
You will also able to understand and find errors that need a fix. For instance
Pages that failed to load on different devices such as a desktop/mobiles
Different elements that result when clicked such as the search bar not showing results on your website.
Elements that took ages to loads or render properly. Finding missing or broken elements on your site.
In order to begin the visitor's screen recording tool on your website. You'll require a website session recording platform.
Once found you need to create an account and copy the tracker provided for adding to your website. This is merely a few seconds of tasks. After which the recording will start and remain active and return results based on how visitors are interacting with your website.
The session recording platform will retrieve data on a daily basis and provide your full-fledged information regarding how visitors interact with your site.
The session recording platform will store the recorded videos for analysis at some later point in time.
Also, you need to watch the recordings carefully because they come without context.

There are times when your visitors get stuck on a form, and you can't be so sure and what's on their mind. This makes you keep guessing and the session recording tool won't be able to help you on the same.
Most often you are likely to face such situations. This is the limitation of the visitors' screen recording tools. But what's great about them is – you can still make big impacts using them.
Here's how?
How often online marketers promote products through their websites. You can still know if people are willing to buy the item or not. If not, then why do they bounce off.
Session recording platforms help you correct the impending mistakes caused because of the performances and conversions.
Every marketer has their own way of capturing leads. The individual (visitor) might be interested in your latest product. With the help of Session recording tools, you get a better insight on how they view, navigate, where they hover their mouse, clicks, and even more.
Fortunately, the session recordings will help you understand if the visitors are actually achieving their goals or not.
The pros and cons of visitor recording and session replay tools
Most website owners and even companies use a visitor recording tool on their website to reap many benefits such as:-
Pros
It showcases the live entry of every new visitor to your website.
Perform action by looking at individual sessions.
Help understand where users are getting trouble such as in shopping cart, or dropping off.
It helps the owner of the website to see whether users are experiencing bugs while opening a specific page also it helps understand the overall experience a user gets after come pay a visit to your site.
Ability to test your site for different purposes for instance, how does a user behave after he pays a visit to your new landing page.
Cons
There is no explanation regarding the visitors' activity on your site. However, a visitor's activity is left for the businesses for perfect interpretation.
Not able to comprehend when a large pool of visitors come to your site.
Individual visitor screen recordings sessions are time-consuming. And not every screen recording will evaluate priceless insights.
It puts a threat to users' privacy and the personal data of the visitor.
Conclusion
Finally, in the end, we thank you for spending time to read the 3 best website session recording platforms in 2023. The 3 best website session recording platforms in 2023 to foresee future business growth and these tools offer valuable information for many.
These tools also reimbursed a free (basic) version which is an excellent way to try the tool before making a purchase. The features provided in these website session recording software are user-friendliness, a lot of features to look into different insights also track the visitors' activity on the website, and above all offer a free version (Trial) limited to one website for testing.