On many occasions, Webmasters, Website developer, Friends ask me about hosting providers which offers the service to host more than one websites then, I decided to write this article on Best Web Hosting for Multiple websites or domains, so you don't need to purchase a different web hosting solutions for different websites or domains. If you are the newbie and want to host multiple websites then you should go with shared hosting service and If you want to build multiple website for your business or clients then I would recommend you to go with VPS Hosting services.

In this article, I have listed the best shared hosting providers which allows to host multiple websites in a single account. This List of shared hosting service is good for Bloggers, Small and Medium business and they can easily host their multiple domains without any issue. But yes, if you think your website is having a High Traffic then you should move to VPS Hosting or dedicated server hosting for multiple websites
If you are in Hurry, Here is the Quick List of Multiple Website Hosting Provider
A2hosting – The Hosting Price starts at $4.90 Per Month with Unlimited webspace and bandwidth
Fastcomet – The Hosting price starts at $6.95 per month with 35GB of SSD webspace & bandwidth
Dreamhost – The Hosting Price is $7.95 per month with Unlimited webspace and bandwidth
So, Now Let's have a Look to the List of Cheap and Best web hosting companies for multiple websites and multiple domains
Best Web Hosting for Multiple Websites
In the list of best hosting sites for multiple domains some are the top recommended and popular hosting companies out there and Here, I have analysed the shared hosting plans of the top hosting companies that offers multiple domains hosting service. So choose them according to your budget and requirements
A2hosting is one of my best web hosting service provider and it is one of the affordable and cheap multiple domain web hosting provider companies across the globe. Since 2003, A2hosting is providing the web hosting solutions to its customers and you can host multiple websites on A2hosting without any issue. A2hosting has invested a lot in providing hosting service for open source scripts such as WordPress, Drupal, and Joomla.

Features of A2hosting – Why you Should Use them for your Multiple Domain Hosting
For Multiple Domain Hosting, you should go with Swift Hosting plan and the Price is $4.90 Per Month
Unlimited Websites can be hosted on A2hosting
Unlimited Database, Unlimited Storage, and Unlimited Bandwidth is provided by a2hosting
It is powered by Cpanel control panel where you can easily manage your Multiple domain sites without any issue
Free SSL certificate with SSD is provided by a2hosting to its customers
The best part of A2hosting, I like is there Anytime Money back guarantee service
A2hosting provides 24x7x365 days of customer support service to its clients
Free Account migration is provided by A2hosting to its customers
A2hosting provides Linux Hosting and Windows hosting service to their clients
Fastcomet is one of the Fastest growing and cheap multiple domain web hosting providers. I have hosted my Blog on Fastcomet from last 7 Months and I can say you, I haven't contacted Fastcomet for a single time and never face any downtime or any other hosting related issues. For hosting for multiple websites, Fastcomet should be there on your research list on the best way to host multiple websites.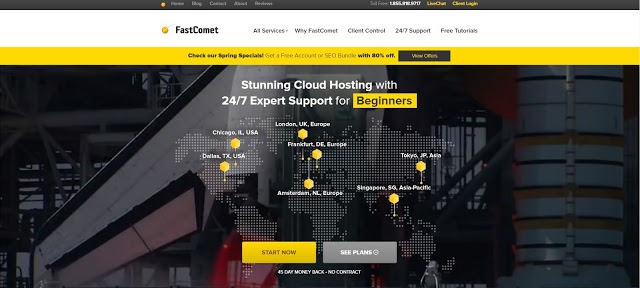 Fastcomet – Why you should opt for Multiple Domain Hosting
The price of  Multiple Domain hosting by Fastcomet starts at $6.95 per month
The Renewal rate and the purchase rate of fastcomet is same, so you don't have to pay extra during renewal rate
Fastcomet provides 25GB of SSD webspace, so here you have a limited webspace for your multiple websites
Free Domain for lifetime is provided by Fastcomet
Unlimited Bandwidth is provided
Free SSL Certificate and CDN is provided by Fastcomet
Fastcomet takes daily automatic backup of your websites, so you need not to worry about loosing your data, if you haven't taken backup of your website
Free 24×7 Customer support service and 45 days of money back guarantee is provided by Fastcomet
Dreamhost is one of the best and recommended web hosting provider for multiple domains and It comes first in my list which you should prefer and best hosting site for multiple domains. Dreamhost has hosted around 1.5 million websites, blogs and apps across the globe and they have around 20+ years of experience in providing the excellent hosting service and they are independent and privately owned company which still has true values and commitment towards their customers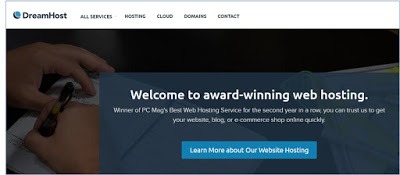 Features of Dreamhost – Why it is the Best way to Host Multiple Websites
Price – The Hosting price of Dreamhost shared hosting starts at $7.95 per month for 3 years hosting plans and If you want to purchase month on month hosting service then you have to spend $10.95 per month
Dreamhost provides a free domain for your first year with annual hosting plans
Free domain privacy is provided by Dreamhost
Dreamhost provides Free SSL/TLS certificates with Let's Encrypt for Multiple domains
Dreamhost supports WordPress, Drupal, Joomla, Zencart and many more open source scripts comes with the single click installation
Dreamhost provides Free Remixer Website Builder
Free Email Hosting, Supports Rails, Python and Perl
What is Multi Domain Hosting?
There are many web hosting companies which allows you to only a single domain or website in a single account. It is good, till you decide to launch more than one websites and then you need other web hosting accounts to launch your websites. Let's say you have to host 5 different websites, then you have to pay for 5 different web hosting accounts.
Multiple domain web hosting allows you to host multiple domain or websites in a single web hosting account. Multiple websites hosting accounts will definitely help you to save a lot of money since you can signup for an account with hosting company provided above and it also helps you to manage all your websites from a single location
What are the Benefits of Using Multiple Domain / Website Hosting?
Cost – It is a very important factor when you use multiple domain hosting services from your hosting providers.
Management – As you will have all your websites in a single account, then it would be very easy for you to manage all your websites from a single account
Space – Multiple website hosting providers always gives unlimited web hosting space to its customers
Support – The Hosting companies provides premium customer support service to multiple domain hosting
What You should consider before purchasing Multiple Domain Hosting?
Web Space – Always consider unlimited web space, before purchasing hosting accounts for multiple websites
Bandwidth – Bandwidth should be unlimited, so your multiple websites should not face any kind of bandwidth limitation
Number of Domains – Many web hosting companies provides 3 to 5 domain hosting, Always check how many domain can be hosted on your account
Database – Do check before purchasing multiple website hosting if they provide unlimited databases or not
I am now concluding my articles on best web hosting for multiple websites and I hope you have found your hosting partner to host multiple websites. I have provided the 3 best web hosting companies list which is the best in providing multiple domain hosting services.
My Recommended Best Multiple Web Hosting Service Providers