Are you planning to start a News Portal or website and Looking for the best web hosting for news website or startup news website? Then this article is specifically written for you, who are going to start a news type website or blog.
In today's world, Many people think to start their news portal or magazine website, maybe they can be a professional journalist or subject matter expert or any business houses. I always a found basic question ask "What is the Best Web Hosting for news website ", so to answer this question, I am writing the article, which will help many startup news portals.

Mainly, I am focusing a Startup news website, in this article because for startup budget is always a constrained and the list which I will be provided in this article would be very flexible at any point of time, you can upgrade your hosting service to suit your news portal requirements. But, Here In this article I will be focusing on best web hosting for news startup websites.
Note – If you purchase hosting service from any providers by visiting the link provided in this article, I will earn some money as an affiliate.
Let's See 2 Best Hosting for News Portal
You will find many blogs or host review websites which will give you the list of 10 to 15 hosting companies with its prices and they leave everything to you to decide. But I don't believe in such kind of things because they also confused me when I was looking a Best Web Hosting company for my blog. So In this article, you will find the 2 Best Web Hosting for startup news portal and you can select any one of them as per your budget and requirement.
Fastcomet is one of the best and affordable web hosting company around the globe. I recommend everyone to host their website with Fastcomet. I have hosted my blog on Fastcomet and till now, I haven't face any kind of hosting issues with them. For your startup news portal, Fastcomet should be your first choice to hosts your website. After a time being, If your news portal starts getting a higher traffic then you can easily upgrade your shared hosting with VPS or dedicated server hosting.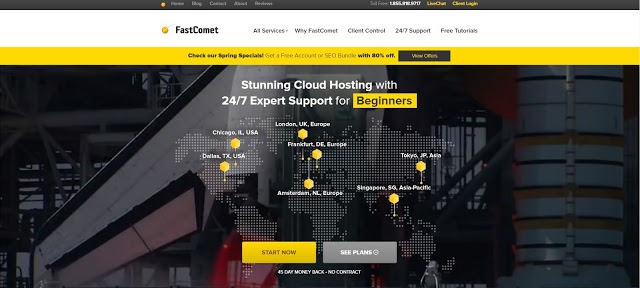 Fastcomet provides you all the knowledgeable step by step tutorials which will help you to install, setup and configures your hosting very easily without any hassle. If you are confused in hosting your website with them, then Fastcomet provides you the technical customer support service which will help you to setup your news portal without any issue.
Let's See the Features of Fastcomet – Why it is the best hosting for startup News Website?
Price is always a major concern for any startup, so Fastcomet here is the best in pricing. The Hosting price of Fastcomet starts at $3.95 per month
Free Domain name is provided for lifetime, till you have to host account with them
7 Well equipped Datacenters across the globe.
Fastcomet provides SSD Cloud hosting service at a very affordable rate
Fastcomet provides free CloudFlare CDN which helps you to bring the content near to your audience
Fastcomet provides Daily and Weekly backups of your website and In a Single click you can restore your full website in a single click
Fastcomet provides the same renewal rate
Fastcomet provides45 Days of Money back guarantee service to its clients.
I have written a detailed Fastcomet Reviews which help you to decide why Fastcomet is best web hosting company
TMDHosting provides Fully managed web hosting service with a very affordable hosting price. TMDHosting provides Shared, Cloud Sites, WordPress Hosting, VPS Hosting, Reseller Hosting and Dedicated servers across the globe.  After Fastcomet, TMDHosting is my 2nd best recommendation to host your News website without any issue.

TMDHosting provides experienced personal customer support. A Friendly team of TMDHosting will take care of everything you come across.TMDHosting provides a response to your customer ticket within 15 minutes, So you don't waste your precious time.TMDHosting loves open source and they have provides one of the best web hosting for open source software.
TMDHosting provides Free App installations, Free plugin installations, Free Template installations and Free Updates to the open source that you are using to start your news portal
Let's See the Features of TMDHosting
The Hosting price of TMDHosting starts at $2.85 per month
Unlimited Bandwidth and Unlimited Space is provided by TMDHosting
In a basic hosting plan you can host a single website and for higher plan, you can host multiple websites
Free Domain name is provided by TMDHosting
Premium Customer support service is provided by TMDHosting
TMD provides Optimum cache
TMD Provides 60 Days of Money back guarantee service to its customers
TMDHosting provides Multiple layers of Cache such as OpCache, OptimumCache, APC and APCu for all websites
Read my detailed article on TMDHosting Coupon which helps you to get information on offers and discounts
Now, I will let you know What Things You Should Consider before Purchasing a Web Hosting for News Website
Price – For any startup website, Price is a concerned parameter which helps you to select the hosting company
Bandwidth – Before purchasing any web hosting company, You should know your Bandwidth requirements. Always, Look a Web hosting company which provides unlimited Bandwidth. As you are starting a News portal, the traffic of your website in future, it can be increased, So always Look for Hosting company which provides upgrading your server
Web Space – Web Space is always important aspect before purchasing hosting service. Many hosting companies claim to provide unlimited, but before that, you should read the terms and conditions to get exact details on web space
Upgrading Hosting – Always Look a Hosting company which provides you the feature to upgrade or downgrade your hosting service without any issue
Customer Support- Your hosting company should provide excellent customer support service. The hosting company, I have listed here are the best in their customer support service
So above are the points you should look into your hosting service for News website. I would recommend you to go with Fastcomet as they are the best web hosting services 2018 for your News portal.
If you have any doubt or you need any suggestions regarding the best web hosting for news website you can comment me and let me know, I will try to answer your query.