It takes a lot of money and time to put audio and video content online. You need a web host that not only facilitates such content but does it well to publish streaming media on your website.
A solid-state drive (or caching CDN), flexible architecture, and stable uptime are crucial elements to consider when you're picking a streaming host.
Along with expert and user feedback, these are the parameters we used to compile our list of the best streaming hosts.
Here are the following explanations on the process of determining the Best streaming Web hosting.
How have we chosen the best host for streaming?
With Streaming Hosting, you can become an internet broadcaster.
Streaming hosting is likely the most resource-intensive form of hosting. As a consequence, finding the best type of hosting can be time-consuming.
We have evaluated and selected several hosting providers based on their speed, performance, scalability, uptime and of course affordability.
Hopefully, you will not make one of the many common mistakes and start with the right host with whom you can stay over the years.
Here are our top recommendations for Best Streaming Web Hosting of 2022
LiquidWeb's customer base is mostly small and medium enterprises, making them an excellent choice if you want to stream a substantial amount of content from your business's website.
They offer a variety of hosting options, allowing you to scale your resources as your business grows. Customers have a range of VPS hosting, dedicated hosting, or cloud hosting to choose from.

Thanks to liquidweb VPS hosting packages, you will get ten terabytes of bandwidth, 1GB of RAM, and 5TB of SSD/ hard drive space with website remediation as well as security.
As a further bonus, the site is backed up for free.
Dedicated hosting and cloud-based hosting options are available for those who want to manage their servers more and have more disc space or have specific needs.
You are also able to choose between Linux and Windows hosting to use with these types of VPS solutions.
The LiquidWeb servers are all of the high quality, all contain SSDs, and have built-in CDNs. Hosting support is available for you 24/7/365.
Pricing
LiquidWeb VPS hosting starts with $59/month subsequently dedicated hosting starts with $169/month and goes upto $199/month.
Also, LiquidWeb gives you a 30-days money-back guarantee. With features includes such as 99.9% uptime, Free SSL certificate, Website builder, and more.
Pros & Cons of LiquidWeb Streaming Hosting
One of LiquidWeb's major selling points is the free registration of up to 30 domain names.
Most people also have the choice of choosing between Windows and Linux, but they can also choose between different control panels.
Customers should be mindful, however, that all this has a higher price tag.
Pros
Free domains up to 30
Support for windows hosting
Multiple control panel options are available
Cons
Price higher than usual
What Customers Are Saying
Due to their great value, they get high marks within the LiquidWeb hosting community. "The most critical aspect that leads to LiquidWeb's performance as a hosting company is the technical support team," says a Liquidweb customer. Considering their support and the servers, it's not expensive.
A2 Hosting offers users a range of options, including managed and unmanaged VPS hosting and dedicated hosting, that are ideal for streaming.
A2 Hosting Core VPS Plan could be an appealing choice for users who need the help of managed hosting but still want more control on their server.

Tiers start from the Standard plan, offering up to 8 GB of RAM and up to 150 GB of storage.
If that is insufficient, A2 Hosting also provides managed and unmanaged dedicated hosting, which enables you to scale your server to your exact requirements.
Some plans are based on the Wowza streaming engine, a media server optimized for ultra-low-latency streaming services.
Wowza delivers both lightweight HTML5 and Flash video players. These plans however require a little more technical skill for users.
Pricing
A2 Hosting VPS hosting starts with $5/month and subsequently their dedicated server is priced at $99/month.
Also, you get any time money back guarantee. And includes features such as 99.8% uptime, website builder, free domain for life, and more.
Pros & Cons of A2 Hosting Streaming Hosting
A2 Hosting offers users a great deal of versatility, including the option of managed or unmanaged hosting.
The Turbo Boost feature allows people to access servers that are optimized for speed.
Even though A2 Hosting guarantees 99.9% uptime, an audit has found their uptime to be slightly lower, at 99.35%.
Pros
Support both Managed and Unmanaged hosting
TurboBoost, SwiftServer
Anytime money-back guarantee
Cons
Little disappointed with the uptime
What Customers Are Saying
Due to their dependability, availability, and customer support, A2 Hosting has established a loyal customer base.
 "I've been a client of A2 Hosting for years and will never quit," one customer writes. "They have the quickest servers, the best technical support, and the best prices."
There are all three options available for those who want to stream — dedicated, virtual private server (VPS), and cloud hosting.
The ability to stream audio and video files is built into all Dreamhost packages, so you won't need to do anything to enable it on your website.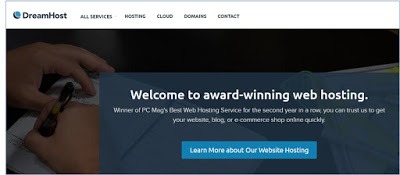 You can choose from four hosting plans, which provide users with up to 8 GB of RAM, 240 GB of SSD  a flexible managed web hosting.
Additionally, Dreamhost's dedicated servers are completely controlled and allow users to configure the amount of RAM and SSD storage they need.
For those who want root access, Dreamhost offers three cloud hosting plans.
Until users comply with the unlimited policies of Dreamhost, no traffic restriction on the amount your site is able to obtain will apply.
Additionally, Dreamhost guarantees security features such as 24×7 server monitoring and DDoS protection.
Pricing
DreamHost VPS starts at $10/month, Dedicated at $149/month & Cloud at $0.0075/hour. DreamHost gives 99.9% uptime, Unmetered bandwidth, Website builder, and more.
Pros & Cons of Dreamhost Streaming Hosting
According to an independent audit, Dreamhost's server response times are the highest among the hosts we checked.
Their 97-day trial duration is also one of the longest on this list. There are some possible drawbacks of using Dreamhost's customized control panel instead of cPanel, such as it being its own server control panel.
Pros
Fastest server response
Cloud hosting availability
A long trial period
Cons
Customized control panel (cPanel absent)
What Customers Are Saying
Customers have favorable things to say about Dreamhost for offering outstanding hosting at a reasonable price.
A longtime customer says, "I've always found them to be trustworthy and approachable if I have a problem." "Nothing is an inconvenience to them. They consistently go above and beyond. Their rates are reasonable and their plans are excellent."
What is Streaming Hosting?
If you want to create audio and video content, you'll need a streaming web hosting provider that allows for streaming media. They're not all.
Additionally, you'll need a host that can accommodate possible traffic spikes without experiencing downtime, as well as content that you plan to publish or distribute.
Is it in your plans to turn your website into a YouTube? Pandora Yes. What's about Spotify? If your aim is to serve your website's viewers with video or audio streaming, you'll need a best streaming server or music streaming hosting.
Okay, so your website isn't quite that big yet. Regardless, whether you intend to stream audio or video files are on the live streaming server keeps the system steady.
Why does Streaming need Special Hosting?
Not all video streaming hosting can support the infrastructure required for audio or video streaming.
Best web hosting for live video streaming is a form of hosting that is optimized for media sharing. Imagine what would be so annoying if your users had to watch a video that freezes and restarts all the time.
What do you predict would be the percentage of those visitors' percentage of those users who return to your site? That's right.
Best video streaming server takes care of these problems. Certain hosts that provide streaming plans are now offering them through cloud storage, which offloads most of the streaming load from the local device, speeding up the process and improving fidelity and reliability.
Other Hosting Features Apart from Streaming
Many streaming audio/video hosting services also have managed hosting, which relieves you of most of the day-to-day management and maintenance. This goes a long way toward and the amount of content you can do on your media streaming platform.
You can search a host which archives the live streaming server for everything you plan to stream in line with webinars, tutorials, and industry leader interviews.
In case something ever happens to your site, you'll be able to keep on serving your customers and listeners.
Final Words on Best Streaming Web Hosting
The future of consuming media is streaming, and the future is now.
Site visitors are increasingly expecting video and audio to be provided as part of their experience with your site. Don't lag behind.
Video streaming is a fast-growing market, and there is still much space for expansion, it is beneficial for companies to get on board now.
Video content is an incredibly effective way to connect with the customers in both the product and service industries.
Today, having the best streaming server is essential if you want to stream videos or podcasts online audio or online audio broadcasts.
Do you have any concerns or comments about this analysis of streaming video hosting services?
Let us know what you think in the comments section below! We enjoy hearing from our readers and will respond as soon as possible.