I looked quite surprised when told about the visitor's screen recording tool. This helps me know who "Visits" my site and how good was their experience.
Supposedly if you are a blogger or an online business owner I am more certain that you have the same thoughts run around your head.
Alright, the first tool I used was "HotJar" just to say, doesn't replace Google Analytics but HotJar will provide me deep insights within my site that you can't find in Google Analytics.
You can take some time and visit David Darmanin, HotJar founder blog to see how HotJar fuel conversion.
Google Analytics was one of the best & free tools for your website. But if you want more insights then considering the best visitor screen recording tool.
In this article, I'll help you choose the best HotJar alternatives in 2021.
#1 HotJar Alternatives – SmarLook
SmartLook is an app that looks more streamlined than HotJar. Not just this SmartLook incorporates a quantitative analysis. Numerous features integrate within the web-based app.
The tool helps your find the number of events logging and session recording and at last how your site behaves. Nevertheless, this option may look similar to HotJar but the idea behind implementing features looks unique.

This gives you the ability to understand your users, customers, and so on. SmartLook provides basic features such as visitor's records, click maps, event tracking, and funnels.
The recording section has a live session recording that allows you to sneak a peek into how real users are interacting with your website. Also, you'll be able to find mistakes and identify the weak spots, and understands the click patterns of your users.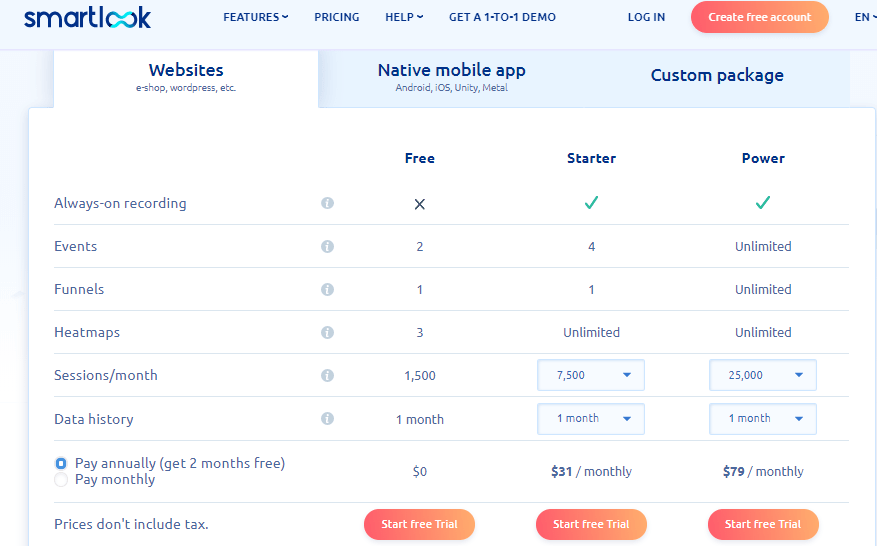 With heatmaps per click, you will be able to contemplate the number of visitors click on your page. Similarly, you'll also get a detailed insight on where users are not clicking and find out the reason to make better use of the area. Overall SmartLook UX is surely going to win your heart.
Tracking events in the SmartLook tool is easy as they provide a code that you need to add to your website header and rest are taken care of by SmartLook. It automatically starts recording any events when visitor's land on your website.
You can do every sort of activity to map out your customers, users on the website. Starting with funnels, events. The tool provides you with a comprehensive integration with dozens of applications such as the ability to track websites and mobile apps.
Features of SmartLook visitors screen recording tool
Always-on visitor recordings
Click heatmaps
In-context recordings
Conversion Funnels
Automatic event tracking
JS console
Conversion data
Integrations
Filtering & segmentation
Collaboration & sharing
Multi-device compatible
Events data
Event picker
Mobile apps
Data history
Read SmartLook Feature in Detail
Get detailed insights into visitor's journey and their activities on a website.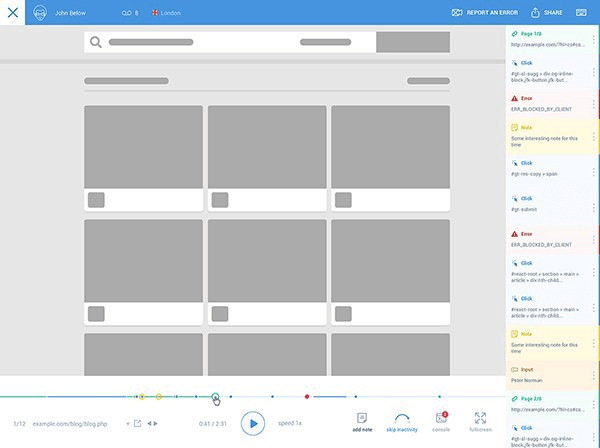 SmartLook store information of each user visits at one place, either finding your site in google or thorough Facebook. Using the SmartLook tool as a primary driver for understanding your customer motive and behavior is going to give you the edge over the HotJar session recording tool.
SmartLook is the right tool for business owners and organizations.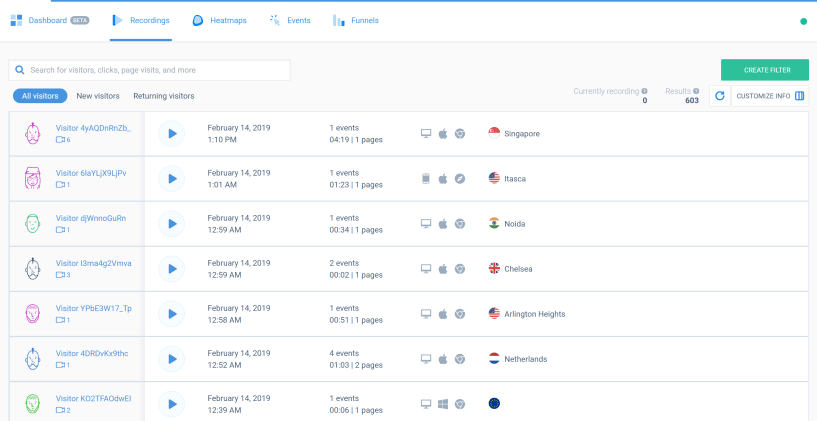 Different users have different requirements and based on the type of website. SmartLook is used mainly in organizations and companies and by individuals. Such as e-commerce, education, services, travel, medical care, media, games, and travel.
For most website owners seeking first-hand information from users visiting their website and mobile apps a detailed insight is available using this powerful tool. At this moment, i.e. January 2021, more than 2,00,000 businesses and organizations are using this powerful tool known as SmartLook.
The information obtained from the SmartLook recorder brings the website owners, companies, and organizations close to identifying the gaps and leverage the customer experience. This ensures better conversion and revenue generation for businesses across different countries.
Different SmartLook Plans for various businesses.
SmartLook asks for few form fill-ups before you start recording visitors' journeys. Unlike HotJar, this tool is free to use at a certain level. And you can add up to 2 team members, with 'n' number of projects and up to 10,000 visitors per month.
However, the SmartLook adds two low-cost plans which are beneficial for both SMEs and individual website owners.
When you purchase any of these plans you straightforwardly unlock every advance feature that SmartLook has in it. You can even start with a basic plan (Free) but with freemium most powerful features will be restrained. Better to purchase a plan that suits your adequate business needs.
Using the SmartLook tool for business help you get a detailed insight into how your visitors interacting with your website. This further helps you locate the pain points of your website.
SmartLook Low-Cost Plans
SmartLook Premium plans have low price structure and include a straight 10-day free trial.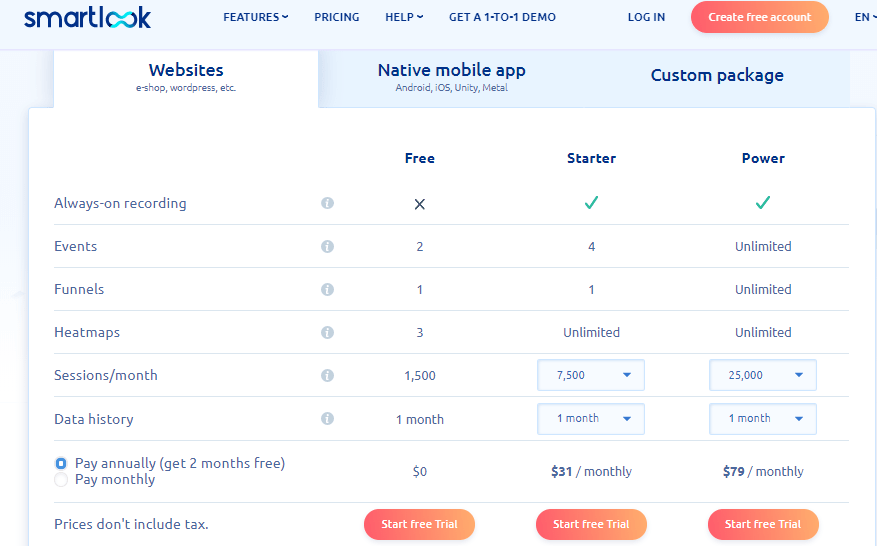 For Basic Website Analytics (Free)
Visitor Screen Recording & Creating Heat Maps
Recordings and heatmaps sharing
Recording of mobile visitors
Support for Ajax and single-page apps
Up to 100,000 visits per month
Visitor journey
2 filter levels
Up to 3 notes
Up to 3 Heatmaps
Data Access
Event picker
EU data centre
Last 3 days' data history
Administration & Support
Unlimited projects
Up to 2 team members
Analytics
2 events
1 funnel
Second, Plan – Get Advance Features Just @ 19$/month
All Free features, plus:
Up to 3 months' data history
Up to 2,000,000 visits per month
Up to 4 team members
Unlimited notes
Filtering & segmentation
Unlimited heatmaps
Better heatmaps precision
Up to 3 months' data history
Always-on recordings
Historical data in Heatmaps
Skip inactivity
Different types of visitors in heatmaps
API and user identification
Speed of recordings
Premium integrations
Third, Power Plan – Get More Data Captured Through Your Website
All Starter features, plus:
Up to 10 team members
Up to 12 months' data history
Unlimited funnels
Unlimited events
JS errors in the console
Awesome Mobile App Integration absolutely at no cost
Free — Beta (SmartLook for native iOS and Android apps)
50,000 sessions/month
Advanced filtering
Always-on recordings
Unlimited funnels
Unlimited events
1-month data history
API and user identification
SmartLook indeed a powerful tool that many bossiness, enterprises, organization, and individuals are using for web funnels and track visitor's summary. SmartLook tool has a simple to use interface where recorded sessions are categorized providing detailed information about the visitors paying to browse your website.
I have written a detailed article on Smartlook Reviews, you can read and get the overall idea about Smartlook
#2 HotJar Alternatives – MouseFlow
MouseFlow opens up with a start line saying "Stop Guessing Why Your Visitors Leave Your Site"
The saying usually shares the same functionality that of HotJar: Heatmaps, forms, funnel, sessions, and replay.
Mouseflow supports a wide variety of CMS platforms such as Joomla, Shopify, WordPress, Google, Analytics, and HubSpot.

Let's move ahead to showcase the most loved feature of the MouseFlow – visitor screen recording tool.
Screen Replay – Mouseflow screen recording tool has lots of features to offer such as clicks, mouse movements, scrolling, filling out a form, and more.
Filter and Segments – You can filter out recordings and use them segment-wise by using the filtering visitors by location, OS, platform, traffic, and many more. The best thing is saving each filtered option for quick use in the future.
Compatibility – Mouseflow support every major browser including desktops, tablets, and phone.
And you get to see a lot of these during checkout, dynamic content, member-only content and more. Moreover, this doesn't slow your website speed.
Heatmaps – The heatmaps provided by MouseFlow has the click/touch and movements. It helps find out the elements on your website that visitors are attracted to.
So that you could get better insights on the visitor's site navigation for improving and site tractions.
The other features are scroll and attention heatmap which bring forth valuable information to you about the various activities the visitors do on your website.
Usually, MouseFlow integrates some functionalities like Geo heatmaps, which may come handy allowing you to discover geographical patterns of targeted visitors.
Funnels – You get a broader view of the visitor's screen journey from start to end. This is more streamlined over a page to page overview.
This lets you know where your visitors are dropping-off so that you can quickly make to fix to it.
How does the MouseFlow stand over Hotjar?
When it comes to trust & confidentiality HotJar takes the larger share of customers due to the open standard for users and the ability to give a transparent platform.
It is more likely that users love HotJar over the MouseFlow app. The following points will give more insights into the prevailing differences between either of two.
Lack of polling or survey feature in MouseFlow
Free trials are offered only on HotJar
Customer reviews talk more about value, accessibility, and support.
Lack of affiliate account in HotJar makes fewer reviews available over the web which is a serious concern for the company's future leads.
Interestingly Freshmarketer provides a detailed report on what popular tools are doing in the market. But what's more important is Freshmarketer has similar features that of HotJar such as heatmaps, scroll maps, funnel analysis, form analytics, polls and feedback, support.
HotJar and Freshmarketer looked the same but they are different from each other in a few areas. The first point of difference is the pricing point.
There is a steep difference in the pricing of each plan. On the contrary, the pricing plans are based on the total page views every month. besides the pricing on Freshmarket is counted on the total number of contacts.
#4 HotJar Alternative – Luckyorange
Luckyorange website is intriguing that holds you back for a few seconds. However, they represent themselves as a platform "The Original All-in-one optimization suite" which they sold at just $10/month.
Of course, this is cheap when compared with HotJar. But how does the tool perform an actual world? A quick look at the features will let you give you every sort of information.

Dashboard – The dashboard of lucky orange is a one-stop destination you ever need. Also, you can see visitors and their locations of referral.
You can simply dig out more information using the insights and analyze driving traffic to your site.
Recording
The recording features are similar to that of other recording tools. But if there is anything new to add to this functionality then dynamic and members-only pages would be a great addition for most websites.
Heatmaps
LuckyOrange is none better than the other two recording tools such as Hotjar and MouseFlow. The recorder is capable of segmenting visitors by location, browser dates, devices, and everything people doing on your website.
Chat
LuckyOrgange is loved by everyone but and it is due to the features and functionality that the company integrates within the tool.
The tool seamlessly operates with any type of website by having power features like multiple, operations, canned responses, and above all the chat feature which seems to be the icing on the cake.
LuckyOrgange may not be the most popular recording tool but lets you compare the historical statistics and gives you the option to monitor traffic generation from a list of keywords, referrers, tweets, languages.
And fortunately, a user does not have to find these options anywhere as they are located on your dashboard.
Features include recordings, heatmaps, conversion funnels, form analytics, chat, and polls.
As we said, the feature (Chat) LuckyOrgange provides is highly regarded. Because the tool can predict things that your visitors may need. besides a good functionality of personalized attention to your users is we think is missing out on Hotjar.
Our Final Words on Hotjar Alternative
Regardless of the way HotJar alternatives are making a name for themselves but the "Survey Feature" of HotJar is definitely the best for offering feedback to them. Besides this is extremely crucial for any business or website owner.
Even if you have loved the features that HotJar provides you may end up liking it after you have checked the annual pricing. However, there are more alternatives available at less price. Keeping different needs in mind for a user.
You may consider these recording tools over HotJar and make your decision to purchase one that adds the best value to your business. Or you may enjoy HotJar 2,000 pageviews simple recordings, leaving all other functionality.
You can read the detailed article written on website session recording which will help you to know the best tool