What is colocation web hosting?
Colocation web hosting is a specialized form of hosting. Whereas in web hosting people generally rent servers in order to build a self-hosted blog/ website using the infrastructure provided to them. In colocation hosting precisely owning hardware to use for the development of company website. Colocation hosting has its own advantages such as it rents out the server space in the data center in order to increase the bandwidth.
For instance, colocation hosting is meant to own a boat therefore, you can rent a berth space to the nearest port. The boat unduly remains property of yours and you can get along with it anytime but you are also getting the benefits of the enjoying the services of the port. Meanwhile, customers also get proper security of the vessel that facilitates into getting everything out of it.
Colocation hosting is known to be the midst of renting the infrastructure along with the possession of a dedicated data center. Any company seeks the demand for such server needs for existing cloud hosting looks forward to colocation web hosting.
How can I choose Colocation Web Hosting services?
Often companies or mid-sized businesses look out for colocation hosting providers. You must have come across thousands of them claiming them to be best colocation web hosting services. In most of the times, these hosting providers are failed to get extensive services and do not live up to their services.
Data centers are now offering extensive features incredible prices in a competitive market. In this article, we'll look for the best ways through which you can choose colocation web hosting services.
Before you hop on. It is advised to check the connectivity options such as space cost, power supply. Therefore, your colocation web hosting provider should be in the position to expand your business effortlessly.
For this, you need a cloud hosting provider such as AWS, GCI, Azure, etc. since they provide big infra setup and allow access to the console. The colocation web hosting is mainly for the large web presence or small businesses and does not deal with large amount items such as network connections.
It's probably the most difficult part to estimate the price of the colocation web hosting due to its fluctuating prices since it depends upon one of the factors such as the collocating a server is the amount of data transfer through the server monthly period. An unusual high traffic site is likely to raise the bill for the service and vice versa.
Top choices for colocation web hosting providers in 2022
Colocation hosting isn't cheap and requires to buy a server, configure by yourself to come out as a full-fledged colocation facility. Many hosting companies are providing VPS and cloud solutions but those who require collocated servers with advanced need and are willing to pay for the same have best colocation web hosting stored for you.
Host Dime is a colocation hosting can be anywhere between $100 per month and provides you with crucial ISP's, including global provider, NTT and Telefonica. Host Dime customers enjoy great benefits from IU racks or full suites. Cohosting with Host Dime will be suitable for mid-sized business and big enterprises. The cost-effective Colocation hosting deemed to offer an array of powerful services meant to serve extensive business needs.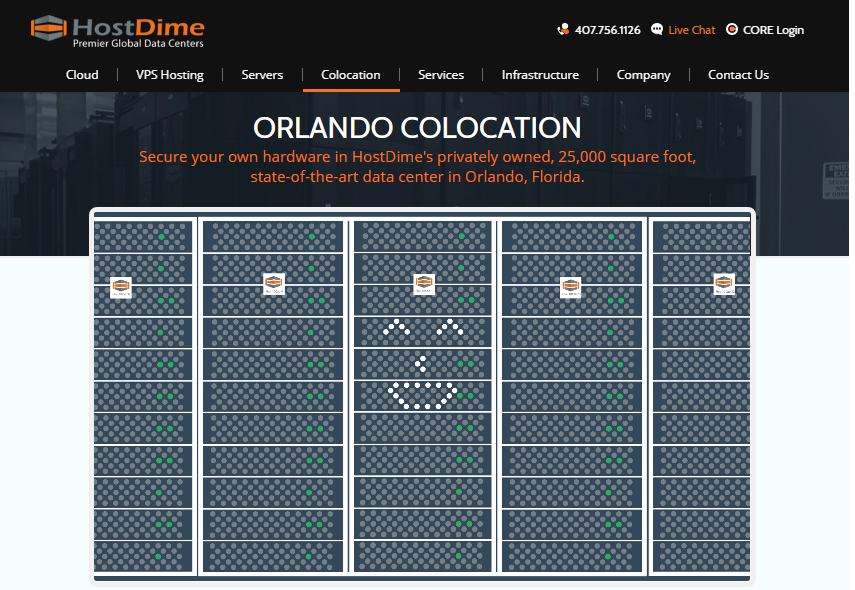 Pricing of HostDime
HostDime provides different colocation hosting plans to its users and they can select any one of them or they can get the custom quote as per requirement. Below is the Plan with its pricing

Datacenters
HostDime provides different datacenters for your Colocation hosting. Below is the location where HostDime can help you with your requirements.
USA and Global Colocation
 Orlando, FL
 Miami, FL
Los Angeles, CA
 Brazil Colocation
 Mexico Colocation
 UK Colocation
 Colombia Colocation
 India Colocation
 Netherlands Colocation
 Hong Kong Colocation
Features of HostDime Colocation Hosting
HostDime Provides up to 100MB/s of Monthly bandwidth to its clients
You will get 1Gb/s (GigE) Burstable Public Port
With HostDime colocation, you will get /28 VLAN Allocation – 13 usable IPs
HostDime provides 24x7x365 Access
Hostdime provides 100% uptime availability with Full UPS and generator power backup
Before purchasing colocation hosting, you should contact HostDime to understand all the terms and conditions so that you can have your long term relationship between them
SharkTech
Shark Tech is founded in the year 2003, worked around for years designing and developing the support system for advanced DDoS protection and other crucial internet securities.
Shark tech has data centers at 3 different location Denver, Chicago and Amsterdam. They provide servers up to 4U in size and plans starting from $79 per month for a single IU server. Even Customers using the plan have the option to rent the unused racks. Also, they provide redundant gigabit ethernet links and DDoS protection.
Colocation hosting with Shark Tech is reliable and scalable colocation hosting backed by powerful data centers that ensure rapid growth rate of your business and its expanding operations. Shark Tech has a viable track record over its operational reliability, scalability and its interconnection operations.
What is the difference between web hosting and colocation?
When choosing a web hosting for your online business typically there are two ways to invest in such that owning the hardware to manage or use the software to pay for the equipment from the hosting company.
If someone likes to purchase own web server then it would mean to store it in-house and or rent a place for the data center to store it. either Colocation is the option. Colocation and web hosting both offer similar purpose for the storage space and to keep the business online. Therefore, the main difference between would be followed.
Colocation
Pros
Full ownership of all hardware and software
Full control of hardware and software configuration
Use of data center IT infrastructure and security
More bandwidth
No risk of network downtime
24×7 support
Cons
The initial investment can be costly
Server maintenance is required
Web Hosting
Pros
Less priced and suitable for most small and mid-sized business and even beginners.
Server maintenance is taken care of by the web hosting company.
24×7 support
Scalability
Cons
No ownership of the IT equipment
Lack of full control of hardware and software.
You may need to share the web server depending upon the type of hosting solution.
Colocation and usual web hosting share some important aspects of Pro & Cons which is why big companies now want to have their own servers instead of relying upon the particular web hosting company for precise hosting requirements.
How much does colocation cost?
Colocation web hosting might be the best choice for an organization to save cost, simplify and bring flexibility to the workloads. However, colocation cost can be determined on a large number of factors which we shall outline below in the post.
If you are confused about whether the colocation web hosting will fit into the right spectrum of the modern-day web hosting then, you may have a tough time deciding on the pricing options.
If you are concerned about the colocation of pricing then you are at right place. Hence you will get the insights into the different aspects of colocation pricing such as
Risk capacity
Hardware and maintenance
Connectivity
Bandwidth
Power
Security and compliance
Backups
Data center location
Support
Flexibility
Colocation web hosting can range anywhere between $136 – $495 per month offering low-end AMD Athlon 64×2 4600+ to enterprise Intel Xenon X5650, A/B Power. Actually, there is a separate bundling cost the maintenance with the contract and the hardware vendor for a monthly fee.
There are almost 3 ways to get colocation web hosting servers such as owning, renting space or renting servers. If a company or enterprise in need of the certain specification that isn't available from usual web hosting then, they can co-locate. Thus, if the company or enterprise is able to support own hardware then they can trust the smart hands enough to evaluate the type of server specs they want from colocation web hosting.
Since colocation hosting is popular among tech industry especially midsized organization in the IT and internet sector. It is due to the specific industry inhabits on value-added wok rather concentrating on server logistics. Colocation hosting is deemed to power up many eCommerce, telecommunication and big powerful industries.
These companies include eCommerce, telecommunications and industrial service industries.
Also, colocation used to revamp the cloud infrastructure who rent out server space and access to the customers. the facilities include double internet exchange points especially made up for interconnecting carriers so that they can connect without the local loop fees and obtains extra redundancy.
What are the advantages of Colocation Hosting?
The cost of running your own data center for your sprouting business has become one of the biggest factors. As the business starts to grow the demand upsurges the urgency to grow space, power and cooling requirements needs proper assessment. Therefore, colocation hosting thrives a host of benefits of owning and running your own data center. It brings a host of features to mid-sized businesses houses such as.
Reduction of IT infrastructure, management cost, and capital savings
Power capacity
Redundancy and reliability
Security and data protection
Bandwidth
Increased flexibility
Scalability
Room for growth
24×7 support & service
Hence, cost saving for the overall operation of your company is considered one of the biggest benefit ones can derive from colocation to your business. Data centers are provided with many security measures to protect your data equipment.
Why should a business use Colocation Hosting?
Business needs proper infrastructure for hosting any website and due to this, it requires a large sum of money on hardware support. therefore, colocation hosting is only option business houses are left with. Withstanding a phenomenal level of support and offer tremendous specs at an affordable cost. A business rent space on a large server rack offers a great place to an own server.
Colocation hosting is gaining popularity even in India due to its immense benefits. When a business opts in for colocation hosting then you do not need to get worried about the operational expenditure or housing an IT team. However, you do not need to wake up middle of the night to reboot a server as the colocation company would take care of everything.
Colocation hosting provides faster networking and robust infrastructure at a low price.
Colocation hosting, when compared with usual hosting, has a better diverse cooling system. Businesses houses must ensure complete power solution and cooling system. A 100% uptime solution is required for server hosting solutions and all these are looked after by the service provider.
Other benefits of the colocation hosting are to choose hardware according to particular requirements such as choosing the operating system of the server to make the specific changes to the settings.
Colocation hosting is mainly for small business with great support and provided a secure environment for organizations.
In a nutshell, efforts of setting up an own server and to obtain a renting space are one of the biggest disadvantages for the business to opt for colocation hosting services. Therefore, business to get optimum protection from the power outages, server downtime issues can be easily maneuvered using a colocation hosting.
How good is the colocation web hosting uptime?
Colocation offers numerous features such as security, reliability, and uptime. However, uptimes depend upon the data centers providers and their uptime SLA guarantee. So, choosing a colocation hosting that provides good uptimes would suffice.
Colocation hosting is highly reliable due to the inclusion of the redundant network and power supplies. In fact, every good provider maintains a 99.9% uptime SLA guarantee. Pick one that offers 24x7x365 rapid action support for technical maintenance.
What are the disadvantages of Colocation Hosting
Despite numerous benefits of colocation hosting it's set to possess a few drawbacks.
Colocation data centers are hard to find also a colocation hosting requires and hands-on management of your system, therefore, a colocation hosting should be backed by a number of personnel. It means to find a colocation hosting near to your home or office to minimize the cost of travel. Colocation hosting data centers are located in big cities.
Colocation hosting is expensive than web hosting. Also, the software required should be provided forefront which levy additional cost to hire an employee to run and manage the system.
Monthly expenses can grow over time as the volume of the traffic between your servers and traffic over the web. Extra traffic would mean more bandwidth that increases the cost eventually.
Since the bandwidth is shared with a number of colocation users. The application used in the software often seems to slow down.
Conclusion
I hope you have like this detailed article on Best Colocation Web Hosting Providers in 2022, which will help you to decide your hosting partner.
My Recommended Colocation Hosting